Parent Service Hours
Each family is obligated to complete 36 family service hours of which 25 family service hours are used for athletics and activities. Time frame is May 7, 2016-May 5, 2017.
Activities that satisfy events for your 25 hours include: Athletic Boosters, i.e. merchandise sales, concession stand worker, security, parking assistant, ticket seller, ticket taker. What a great way to support our community, set an example of service to others, and be involved in your student's school.
TO SEE WHAT VOLUNTEER OPPORTUNITIES ARE AVAILABLE PLEASE CLICK THE SIGN UP GENIUS BUTTON BELOW.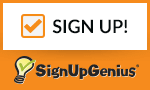 Use the pdf. file below for the guidelines of the Parent Hours Program.